About Voice Centre
The staff of Voice Centre
CEO Daniel Zangger Borch, PhD in popular song / Vocal coach
Daniel is Sweden's first and only doctor in popular song (PhD in musical performance). Daniel was born and raised in Copenhagen but has spent the adult years in Stockholm. Daniel has been a professional singer for many years and has recorded a number of CDs with both the hard rock band "Alien" to two Eurovision competitions with the duo "Cross Talk". In between there has been a dozen tours in the world, touring with a string quartet, instructional video for singer (vocalist) and best-selling book "Ultimate Vocal Voyage".
A solo CD under his own name was released in May 2007.
Daniel is the first Swedish singing teacher who have been scientifically researching rock, pop, and soul vocal performance and he is frequently engaged as a lecturer for other singing teachers and singers all over Europe
E-mail: daniel@voicecentre.se
Vocal Coach Karin Reveny
Karin studied at the Music Academy at Gothenburg University, and SMI. Karin has seven years experience as a vocal coach As a singer, she is primarily focused on country, rock and blues. Karin has worked with several Swedish artists in different contexts, ranging from studio recordings to TV shows. She is a field artist and have been involved in such countries as Liberia and Afghanistan. She participates in the Eurovision Song Contest 2009, and tours with Abba The Show
E-mail: karin@voicecentre.se
Vocal Coach Matilda Lindell
Matilda Lindell is educated at The Royal College of Music in Stockholm and has worked as a freelance singer and a vocal coach for several years. She sings in numerous bands, for example the Abba tribute band "The visitors" and she's done backing vocals for many of Sweden's biggest artists. Matilda is also a songwriter and is recording
E-mail: matilda@voicecentre.se
Michael Lind, Webmaster
Designs and maintains www.voicecentre.se Michael works with web, video, print and music production.
E-mail: info@voicecentre.se
Voice Centre's methodology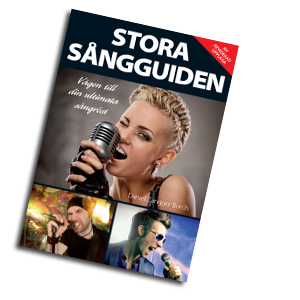 We help many of Sweden's established artists – singing teachers – singing coaches – business leaders – show hosts – young talents and amateur singers who sing for pleasure. See references>
We are college educated singing teachers and with Daniel Zangger Borch's research as a basis (Sweden's only doctorate popular music vocals) – we are at the forefront of singing in rock-pop and soul music genres and you are therefore guaranteed a teaching at the highest level
Ultimate vocal Voyage / Ultimate Vocal Voyage – authored by Voice Centre's founder Daniel Zangger Borch – has reaped great success in Sweden and worldwide. The book is an excellent tool for rock – pop and soul singing – a smorgasbord of knowledge about the voice for all singers as well as for those who are vocal coaches.
We are serious and want to develop your unique and personal voice to the best.
Welcome!

References
Here are a few of the clients / students whom we have worked with:
Artists
Arash
Asha Ali
Safura Alizade
Kristian Antilla
Apollo drive
Peter Asplund
Edith Backlund
Anna Bergendahl
Boppers
Brent Carter
Shirley Clamp
"Dogge"
Drifters
Emilia
Sarah Dawn Finer
Amanda Fondell
Gabriel Forss
Andreas Grega
Nanne Grönwall
Matthias Holmgren
Carola Häggkvist
Idol 2008
Patrik Isaksson
Dimitri Keiski
Lykke li
Christer Lindarw
David Lindgren
Hanna Lindblad
Daniel Lindström
Rennie Mirro
Nordpolen
Sofia Olsson
Johan Palm
Panetoz
Emilia De Poret
Daniel Adams Ray
Rednex
Anna Sahlin
Ola Salo
Sarek
Danny Saucedo
Erica Sjöström
Maria Haukaas Storeng
Kim Sulocki
Didrik Solli Tangen
Top Cats
True Talent (Tv show)
Velvet
Warner Music AB
Wolf
YES
Zillah & Totte
Frida Öhrn
And many more…..
Comedians / actors / show hosts
Björn Gustavsson
Kristian Luuk
Jonas Malmsjö
Lisa Werlinder
And many more…..
Business leaders
Mia brunell – VD Kinnevik
Peter Elam Håkansson – Grundare, East Capital
And many others…..
Schools & Institutions
The British Voice Association
The Royal Academy of Music
Kungliga Musikhögskolan
Ingesunds Musikhögskola
Röstfrämjandet
Eolia school of Music & Drama
Malmö Musikhögskola
Piteå Musikhögskola
Örebro Musikhögskola
Kungliga Tekniska högskolan
Stockholms Musikkonservatorium
Stockholms Musikpedagogiska Institut
Rockmusikerlinjen på fryshuset
Kulturama
Kulturskolan i Stockholm
Medborgarskolan Nationellt
Fältartisterna
Kulturskolan Norrköping
Kulturskolan Östergötland
And many others…..
Gramophone Company / Publishers & Production companies
SONYMUSIC AB
2Entertain
Extensive Music AB
Dinamo
Blixten & Company AB
Meter Film & Television AB
Warner music sweden AB
Universal music AB
M & L records
United Stage Artist (US)
EMA telstar AB
Bonnier Amigo Music Group
Wasa Music AB
Mtv Mastiff
Wallmans Nöjen
Baluba
Startklart records AB
Eagle songs
Warner Chappell
Buffalo Songs
PJP
Lionheart International records AB
Sörmlands Musik & Teater
Folkoperan
And so on.…..
Marketing companies, Magazines & other customers
Speakers
Studio
MTG Media Group
Radiopalatset
Rubberduck
Cinepost
Cowboys sound
Business Entertainment
Musikermagasinet
Röstläget
Logopedics Phoniatrics Vocology
Backstage
East Capital
And more…..

History, geography and business
Voice Centre started in autumn 2003 and is the new name of a business that Daniel Zangger Borch has conducted since 1994.
Voice Centre is located in Stockholm
The business is of an artistic and educational nature and consists of voice-related activities in the popular musical genres. Voice Centre's main role is to provide assistance for training and we offer coaching, individual lessons, group lessons, vocal production, casting and consultancy, research and hold seminars in the framework of the business.
Voice Centre's singing teachers are college educated and further trained in the Zangger Borch method (UVV – Ultimate Vocal Voyage) which is the name of "Big Song Guide" and Daniel Zangger Borch's practices internationally.
Voice Centre has an ambition to be at the forefront of education, methodology and research on the subject: Voice function in the popular musical genres!