Singing Courses
Welcome to Voice Centre's Singing Courses!
A song course is a good alternative to taking private singing lessons. The song courses take place in Stockholm and the leaders of each singing course are trained singing teachers. On this page you can:
If you're more interested in taking private singing lessons with Voice Centre's singing teachers, click here >
Statements on the song courses!
Students statements about the song courses:
"Good and clear program to be held all the way. Good methodically, from one step to a more difficult"

"Very intense, very interesting and very enjoyable"

"Great fun, I thought scene interpretation was incredibly fun and useful"
Our singing courses, Stockholm
Summer course in singing
3 wonderful days of singing, singing and singing!
An excellent opportunity to SING. Sharpen your skills, get new impressions, new inspiration and the joy of singing! We instruct the singing techniques of rock, pop and soul genres and perform exercises from the book Ultimate Vocal Voyage by Daniel Zangger Borch.
We work with individual coaching and masterclasses. You take part in new song material and find the ideal sounds.
Price: 3495 SEK
Song Methodology for singing teachers, vocal coaches and speech therapists
An eventful and inspiring weekend focusing on the voice in the Rock, pop, and soul genres. We start from the exercises in "Ultimate Vocal Voyage, make methodical depth studies and relate this to existing voice research. We have a review of the genre ideals, fruitful discussions and also a lot of own singing, which is rounded up with a masterclass on day two. Daniel Zangger Borch's methods are widespread and are totally suited to popular music genres with a solid grounding in vocal function.
Lunch and coffee are included both days.
Price: 3995 SEK
Subject to typing errors
About the course leaders on the singing courses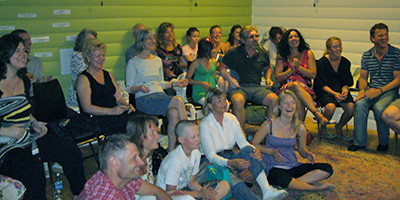 Students statements about the course leaders:
"Enormously talented, knowledgeable and committed. Skilled in both teaching and creating a positive and permissive atmosphere "

"Accurate, positive, constructive. Finds solutions in an understandable way. Really Nice"

"Absolutely fantastic. Very fun, a lot of knowledge and warmth, you never feel that something is forgotten, that someone is not seen, all are equally important. Good at keeping the group together at the same time as everyone was given special help"
Book / order info on singing courses
Click here to get in touch with us