Ultimate Vocal Voyage
"Ultimate Vocal Voyage" – Sweden's best-selling songbook – in a new, even better version.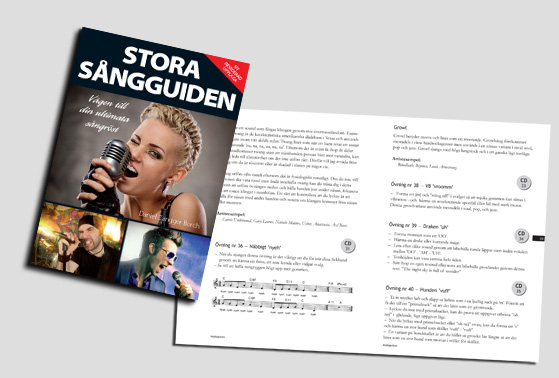 Ultimate Vocal Voyage – written by Voice Centre's founder Daniel Zangger Borch – has reaped great success in Sweden and worldwide. The book is an excellent tool for rock – pop and soul singing – a smorgasbord of knowledge about the voice for all singers as well as for singing teachers and vocal coaches.
A modern way to learn how to sing
Join in the exercises with the accompanying notes and singing lessons in MP3 format.
Below is an example of how vocal exercises are done. Click on the link to see a preview or click on the audio files to listen.
ultimate-vocal-voyage-example, PDF (Requires Acrobat Reader)
63. The swing Ghost Notes Trioler 'MJ'
You rarely find such a good example of how a book and CD are complementing each other – Björn E Olsberg, Studio
28. The vocal chords Wail the challenge
A must have core text for the contemporary vocalist – Kim Chandler
34. The sound Growl Dragon uh
For an active singer with a good basic technique, the book may provide new ideas and inspiration! – Katarina Josephsson, Fotnoten
9. Breathing Core 'hold me' 1
I encourage all voice teachers to add this book to their collection – Dane Chalfin of the British Voice Association
17. The vocal chords Falsetto register Airy falsetto 'shEE'